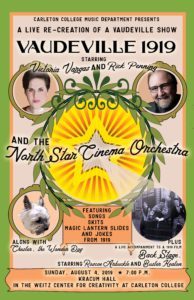 The North Star Cinema Orchestra will present Vaudeville, 1919 at the Kracum Concert Hall in the Weitz Center for Creativity on the Carleton College campus on Sunday, August 4 at 7:00 p.m. The presentation is a re-creation of a Vaudeville show featuring authentic songs, jokes, skits, and magic lantern slides from 100 years ago. The show will also feature the orchestra accompanying Back Stage, a 1919 film starring Roscoe Arbuckle and Buster Keaton.
Featured in the program are singers Victoria Vargas and Rick Penning. Also featured will be Chester, the Wonder Dog, who will perform in a dog act.
Other members of the orchestra are: Martha Jamsa, flute, Nina Olsen, clarinet,  Lynn Deichert, trumpet, Liz Ericksen, violin, Matt McCright, piano, Connie Martin, bass, and David Miller, percussion. Matthew Zimmerman is the projectionist. The ensemble is directed by Ron Rodman, Dye Family Professor of Music at Carleton College, and Director of the Carleton Symphony Band.
Admission to the concert is $10, but is free to youth under 18 and seniors over 65. Admission is also free for anyone with a VBF pin. Proceeds go to the Vintage Band Festival.
The concert is sponsored by the Carleton Dean of the College Office and the Carleton Music Department.