Read a recent blog post about the Vintage Band Festival via the Preservation Alliance of Minnesota here.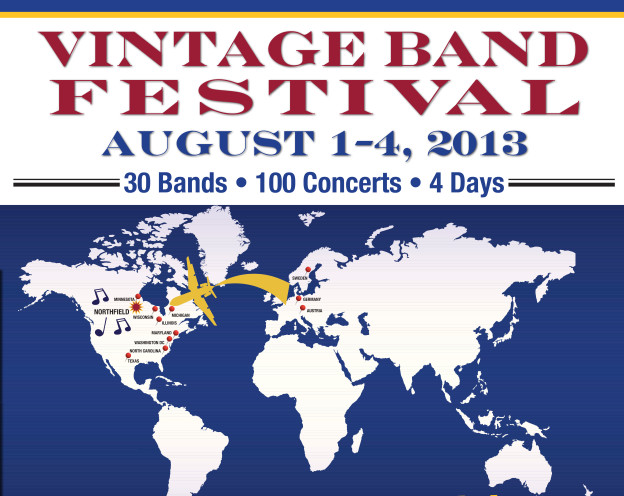 Visit our press page for information on a special Media Day and more.
FOR IMMEDIATE RELEASE
NORTHFIELD, MN, July 2013 – Time will stand still as the Vintage Band Festival takes the stage Aug. 1-4 with a multitude of period-inspired performances celebrating the music and instruments of past eras. More than 100 concerts will take place this summer in Northfield and surrounding satellite concert sites for an unforgettable experience recalling music in history.
The Vintage Band Festival – a historic account of its own – brings with it a vast repertoire, dating as far back as the Baroque era and offers cultural performances in a full range of genres. Hear marches, ballads, jazz, polkas and alphorn songs…or as the Brass Messengers from Minneapolis/St. Paul who play Caribbean and Balkan music say, "anything that fits in the twisted brass tubing from originals to covers from around the globe, as long as it's making joyful noise."
Festival-goers will be able to step back in time and experience a musical documentary, of sorts, all in one weekend. "The whole town becomes a theater set," said Festival's Artistic Director Dr. Paul Niemisto, describing the bands' different genres and ethnicities to be represented at open-air venues of parks, pubs, restaurants and other public spaces. "It's not only the music, period instruments and authentic costumes viewers will be experiencing – we're playing the space." For example, attendees to the free festival can witness Civil War reenactment bands, dressed in period clothing, using restored instruments at a Battle of the Bands across the Cannon River followed by a massed concert.
The Vintage Band Festival serves as a portal into different eras with additional auxiliary events offered, such as ballroom dancing, a vintage "base ball" game, vaudeville entertainment and more.
This larger-than-life musical event spans the centuries, from primitive pieces to classic arrangements to old-time favorites to present-day smash hits, and it bridges across the country and overseas with more than 30 bands participating.
The Kentucky Baroque Trumpets will be performing signal calls dating back to 1240 from Krakow, Poland. This band offers a series of cavalry fanfares, solos, and duets, primarily from the 1600 and 1700s and has just recently recorded, for the first time ever, and with some of the finest trumpeters in the world, a facsimile from Composer Cesare Bendinelli that was transcribed into modern notation, according to Kentucky Baroque's Artistic Director Don Johnson.
Dr. Niemisto also notes several European performances planned for Aug 1-4 that are indigenous to their place of origin such as: the Swedish band Medevi Brunnsorkester, a brass sextet with music dating back to 1870; the Oktetten Ehnstedts Eftr., a Swedish wind band, that hails from Stockholm; the Original Drachenfelser Musikanten, a quartet from Germany; and Eine Kleine DorfMusik Kapelle that harkens back its age-old scores from small villages in Austria. "Each one is conscientiously trying to preserve and present a style of music that is indigenous to a very specific part of their country. Even within these countries, there are still differences and one might find it culturally interesting to hear contrasting interpretations, within one language group."
Dr. Niemisto added, "It's also culturally compelling to hear the bands from the United States that are creating music that is not indigenously American, such as The Brass Messengers, Klezmerica, and Mariachi mi Tierra."
Progressing along the musical timeline, the Copper Street Brass Quintet out of the Twin Cities has a tour program called the "Evolution of the Brass Quintet" that is aimed at education and offered to communities across the nation.
A headliner at the Vintage Band Festival that reinvents old to new is an extraordinary musical family – the Hypnotic Brass Ensemble. The eight brothers from the south side of Chicago have played all over the world. A recent press release from the band says, "Every step taken by these ambassadors of brass, has been to fuse the better parts of every musical genre, into a legacy to share the future of music."
Another noteworthy band is Kenny Carr and the Tigers, a trombone shout band from North Carolina. Kenneth Carr shared these words: "The Vintage Band Festival and the city of Northfield is a great venue and place for us to display our love for the brass sound. We are elated to be part of such a historic event."
###
For a complete band roster, go to http://vintagebandfestival.org/bands/. Music samplers and a full event schedule can be found at vintagebandfestival.org. Press information can be found at http://vintagebandfestival.org/press/.
Find VBF on Facebook at "Vintage Band Festival" and Twitter at @vintagebandfest.
Festival inquiries and photo requests, contact Amy Acheson at 651-470-0028 or amy@achesoncreative.com.
(Northfield, MN May 2013) – Cultural influences from all over the world contributed to the rich history of American brass bands. Attendees of this summer's Vintage Band Festival will hear this richness expressed through the performances of a number of ethnic bands, including several from Minnesota.
Here's a look at some of those bands participating in the Aug. 1-4 festival:
The Brass Messengers started as a street band playing the music of the Caribbean and Balkans. http://www.brassmessengers.com/ This Minneapolis-based band is well known for its lively performances and its involvement in the Heart of the Beast May Day Parade. "Our music of choice is anything that fits in the twisted brass tubing, from originals to covers from around the globe, as long as it makes a joyful noise."
The entertainment band tradition of klezmer, secular Jewish music that originated in Eastern Europe, will be represented at the Vintage Band Festival by the Klezmerica band of the Twin Cities. Also known as the Frozen Chosen, Klezmerica has played all over the United States, in Canada, and Israel.  (http://frozenchozen.com/)
Traditional Mexican music styles of mariachi and banda also have influenced the American brass band sound. Minneapolis-based Mariachi mi Tierra (http://www.mitierramnonline.com/) has performed widely around the country, and at events closer to home, like Minnesota Twins baseball games. Mariachi music has incredible diversity, from rapid tempo "sones" (quick songs), to "romånticas" to dance forms such as the "cumbia", "bolero", "polka", and "vals" (waltz). They include the typical instruments: trumpets, fiddles, and guitars.
Among the other Minnesota bands reflecting ethnic traditions are the Original New Ulm German Band and the Bavarian Musikmeisters (http://www.musikmeisters.com/), both well known in their own communities and around the region. For the Bavarian Musikmeisters, the music is about "sharing the beauty, enjoyment, and history of traditional Germanic band music and culture with people of all ages."
The Minnesota-based Finnish band Ameriikan Poijat (Boys of America) recently returned from a concert and festival tour of Finland, performing at the Lieksa International Brass Week and on the main esplanade in Helsinki and many other locations. The seven brass players are from all corners of Minnesota.  (www.ameriikanpoijat.org)
Visit our website for more information and a four-day schedule with over 100 performances at http://vintagebandfestival.org/festival/schedule/. Stay tuned for more news from the Vintage Band Festival as exciting national and international bands (soon to be announced) will bring their heritage music to this year's festival, as well! Our news blog can be found at http://vintagebandfestival.org/news/.
The Vintage Band Festival is a four-day celebration featuring bands from across the US and abroad. Over 100 concerts fill the streets of historic Northfield and satellite concerts sites throughout southern Minnesota on August 1-4. The Festival offers a variety of genres, ethnic influences, and period-style performances. Visit http://vintagebandfestival.org/ for more information.
Find us on Facebook at "Vintage Band Festival" and Twitter at @vintagebandfest.
This activity is made possible by the voters of Minnesota through a grant from the Southeastern Minnesota Arts Council thanks to a legislative appropriation from the arts & cultural heritage fund.
This activity is made possible by the voters of Minnesota through a grant from the Minnesota State Arts Board, thanks to a legislative appropriation from the arts and cultural heritage fund and by a grant from the National Endowment for the Arts.
###