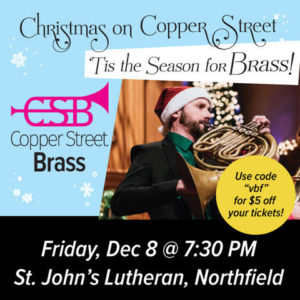 There's no better time for brass than the holidays! Now a family tradition for many audiences, Copper Street Brass' popular holiday concert celebrates the stories and sounds of the season. You'll hear everything from traditional carols and classical music to funk and rock holiday tunes – crafted with Copper Street's signature original arrangements and performed with passion, humor, and virtuosity.
You'll also hear music from favorite childhood movies and TV specials like The Nutcracker, The Snowman, A Charlie Brown Christmas, and The Grinch.
One night only, Friday December 8th at 7:30 PM – St. John's Lutheran Church. Tickets $20-$25 adults, $10 students. Tickets available at www.copperstreetbrass.org or call (763) 307-3452. VBF fans use code "vbf" for $5 off your advance tickets!
Final Reminder: Tuba Christmas will take place Saturday, December 2!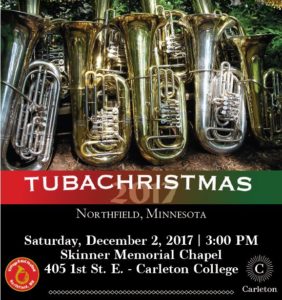 Kick off the holiday season on Saturday, December 2, by going to Tuba Christmas at Skinner Memorial Chapel on the campus of Carleton College at 3pm. Picture a stage filled with tubas, sousaphones, euphoniums and baritones all playing Christmas carols for your enjoyment. Be prepared to sing along as instructed by host, Paul Niemisto, and guest conductor, Ron Rodman, and be sure to bring your family and friends to this community celebration. If you know musicians that play these instruments, invite them to participate. Musicians of all ages are welcome. Registration begins at noon, there is a rehearsal at 1pm and the performance is at 3pm.
Visit vintagebandfestival.org for more details.