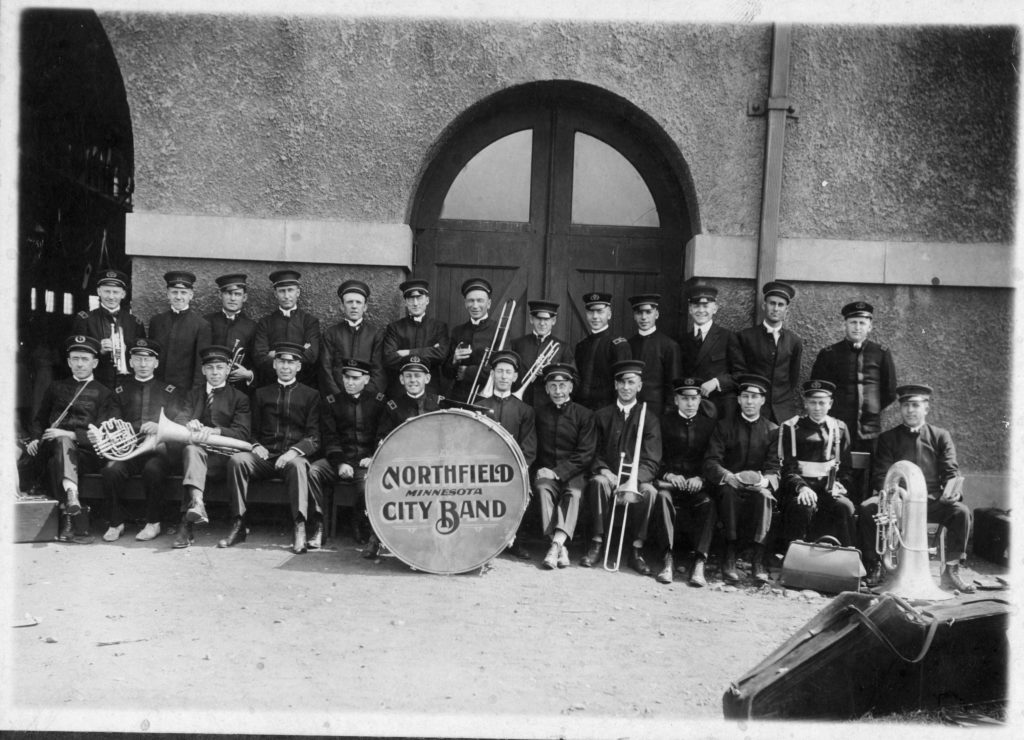 In the VBF 2022 Official Program, the Northfield Historical Society placed an ad with a picture of a community band from the early 20th century. The bass drum in the picture had the words "Northfield Minnesota City Band" painted on it. No one on the VBF board had ever seen the photograph before and a couple of members decided to track down the provenance of the photo and the occasion for which the band posed for the photographer. The photograph was found on the Northfield-Rice County History Collection, a digital collaboration by nearly 20 Rice County entities with archival collections, including the Northfield Historical Society.
Jeff Sauve, the curator of the Northfield Historical Society at the time, gave the VBF Marketing Committee permission to use the photograph and the decision was subsequently made to put it on the cover of the 2023 Official Program.
According to the Northfield News of June 24, 1980, the band in the photograph was chosen to play at the Grandstand of the Minnesota State Fair, about 1917. The photograph was taken outside the grandstand. The band members were identified as follows: Left to right, front row: Pete Johnson, Art Sunde, Merril Lawrence, George Mohn, Hjalmar Berge, Lawrence Emmons, Leonard Obrech, Eugene Lee, Lester Batson, Carl Gulbrandson, Robert Babcock, Norman Lende, George LaPointe; back row: Bernard Gimmestad, Roy Palmer, Theodore Carel, Roman Berke, Pat Brown, Al Haue, William Dunn, unidentified, Leon Neulen, Walter Fink, Earl Page and Harry Emmons.
Thanks to Jeff Sauve and the Northfield Historical Society for allowing us to use the photograph in our 2023 marketing efforts.