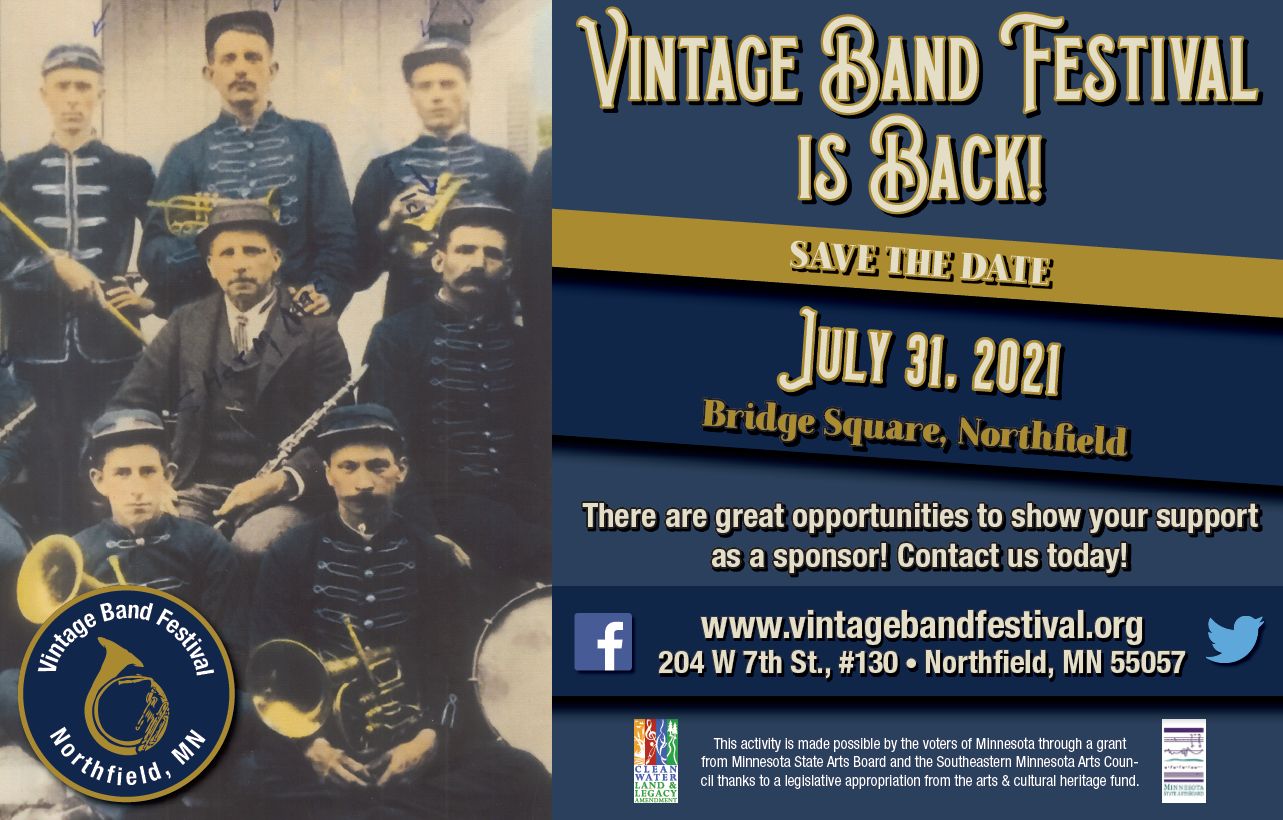 Have you heard the news??
Vintage Band Festival 2021 will take place July 31, 2021. Exactly 425 days will have elapsed since VBF's last public event: the Swing into Leap Year Dance on February 29, 2020. It's been a long time coming. With the lifting of restrictions by the Governor's office a couple of weeks ago, it looks like our outdoor event in Bridge Square can be held safely.
We're going to have a great lineup for 12 hours of brass band enjoyment. The evening schedule is set. At 5:30 on the Wenger Showmobile Stage we'll have Southside Aces, a fantastic Twin Cities jazz ensemble led by Tony Baluff on clarinet. Copper Street Brass will take the stage at 6:45 and the evening will finish with the sounds of the Roseville Big Band. Copper Street Brass has appeared at every Vintage Band Festival since 2006, but the Roseville Big Band will be making its debut with us. Bring your dancing shoes!
We'll announce the rest of the lineup just as soon as we get confirmations from everyone. Check back often at the VBF website for  the rest of the day's schedule and other festival details.
Riverwalk Market Fair, an open-air bazaar featuring fresh produce vendors and artisans of all sorts, will again be sharing Bridge Square with Vintage Band Festival. This collaboration has been taking place for a number of years now and we love the synergy that results from the co-mingling of our audiences!
Thanks to our spring donors who stepped up during Spring Forward MN in May. We have a goal to raise $5,000 before the July festival and we're 30% there following the May fund drive. If you can help us with a gift in any amount, please visit www.vintagebandfestival.org and click on the green "Donate" button.
This past year has been difficult for everyone and we're looking forward to seeing all of you again in person. If you haven't gotten a COVID-19 vaccination yet, please do so at your earliest opportunity. The best way to reduce the risk of virus transmission for everyone is for people to be fully vaccinated.