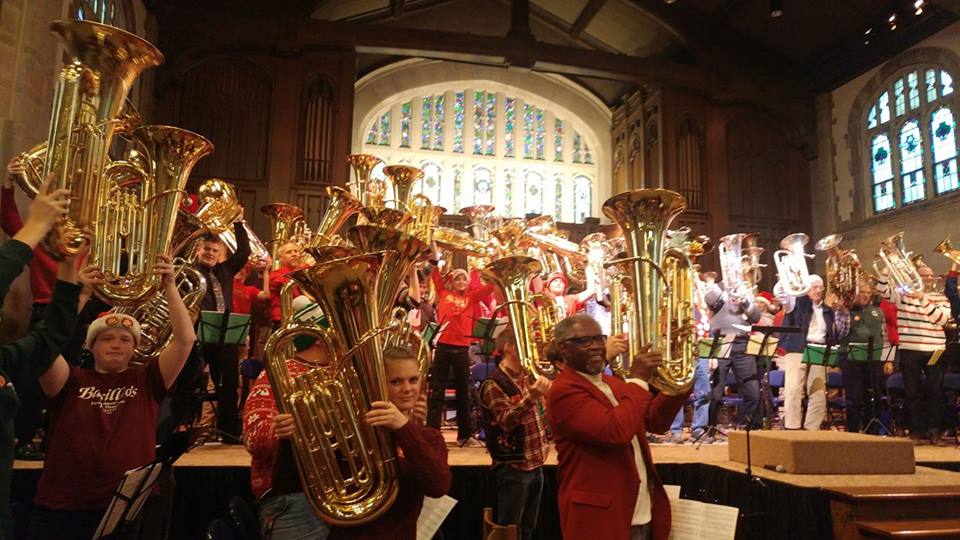 2020 has turned out to be like nothing any of us born after the end of World War II have ever experienced. We had to cancel the Vintage Band Festival mini-fest that would have taken place on August 1, 2020. Our community of Northfield, the town that defeated the James-Younger gang's attempted bank robbery in 1876, cancelled the annual Defeat of Jesse James Days celebration for the first time ever since its beginning in 1948. And the internationally reknowned St. Olaf Christmas Festival for 2020 has just been cancelled. All of that will likely make the next sentence easier to understand.
The Vintage Band Festival Board of Directors has decided to cancel Tuba Christmas for 2020. The annual low brass holiday showcase was to have taken place on Saturday, December 5, 2020 at Carleton College in Northfield as it has for the past three years. However, due to the obviously compromising conditions caused by the threat of COVID-19, particularly in indoor settings, this is the wisest and safest course of action.
In the meantime, please support arts organizations of all sorts with whatever financial support and encouragement you can offer. This is a very challenging time for musicians at all levels of engagement, from school children in middle school band to professionals in the finest orchestras in the country.
We hope to bring Vintage Band Festival back to the stage in 2021 and to that end we will continue to monitor guidelines from the Centers for Disease Control and Prevention (CDC) and the Minnesota Department of Health as well as our community partners here in Northfield.