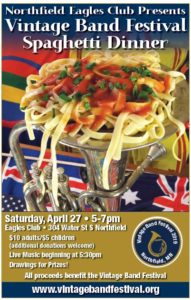 The 4th Annual Vintage Band Festival Spaghetti Dinner Benefit will be held Saturday, April 27, 2019 at the Northfield Eagles Club, 304 Water St South, from 5-7pm. Dinner includes spaghetti marinara with parmesan cheese, green salad with multiple dressing choices, French bread and butter. Cash bar available.
Live music will be played throughout the evening. Music provided by Bridge Square Band and ensembles from St Olaf College and Northfield High School.
Tickets are $10 for adults and $5 for children and will be available at the door.