Southside Aces perform traditional New Orleans jazz. The band first began as the brainchild of Clarinetist Tony Balluff and Sousaphone player Erik Jacobson. Their whispers and rumors materialized in Tony's foyer near Pillsbury and 27th in South Minneapolis, late August 2003. Since their first gig on a flatbed truck in Apple Valley, they've played weddings, festivals, clubs— "music furnished for all occasions". The Aces self-produced and released five albums : All Aboard!! , Bucktown Bounce, A Big Fine Thing, their Christmas album, Santaphone, and their latest, Second Thursday. Their music garnered the declaration, "A true authentic New Orleans dance-hall style band" from the New Orleans Traditional Jazz Quarterly.
In New Orleans, the jazz tradition thrives off a wide array of tunes and styles. With such a wealth of good music from which to draw, the group is dedicated to highlighting the songs and not the players. They possess a diverse repertoire, with a roll call that includes the names of Louis Armstrong, Jelly Roll Morton, Hoagy Carmichael, Duke Ellington and Bix Beiderbecke. Many songs from lesser-known constellations in the jazz firmament such as AJ Piron and Tiny Parham found their way in there, plus Crescent City classics like Bourbon Street Parade, Just A Closer Walk With Thee and St. James Infirmary. Finally, lets not forget the funky rhythms of brass band powerhouses like Mardi Gras In New Orleans and Palm Court Strut. Songs as good as these don't need a lot of help!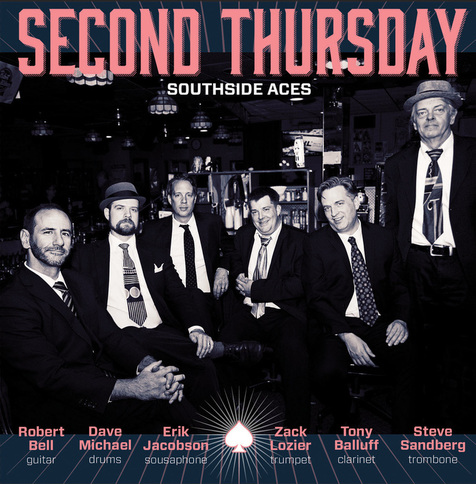 The Southside Aces have performed at the Times and the Dakota jazz clubs, Peavey Plaza, Mears Park, Twin Cities Jazz Fest, Hopkins Jazz Festival, and the Doc Evans Jazz Festival. They have driven dancers to a frenzy at national lindy hop competitions: "Showdown", in Minneapolis; "Big Apple" and "Cowtown Jamborama" in Omaha. We have Balboa covered as well: "Rocky Mountain Balboa Blowout" and "Minnesota Balboa Fest." All of which, if you're keeping score, makes us a "territory band". Found at weddings, birthdays, banquets and memorials, the Aces utilize the traditional cannon for its sweetness, its spice, its joy, its sorrow; whatever the mood should call for. They'll even take requests.
Southside Aces will take the stage at 12:00pm on Saturday, July 28 at Vintage Band Festival 2018.