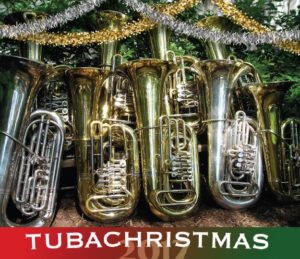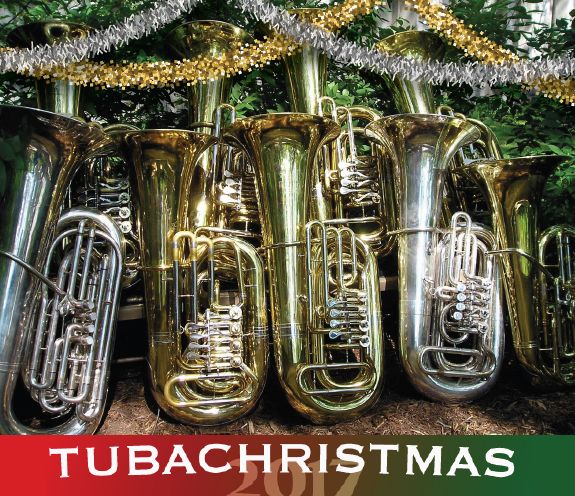 Vintage Band Festival announced this week that it is presenting Tuba Christmas 2017 in Northfield on Saturday, December 2 at 3pm. The event will take place in Skinner Memorial Chapel, 405 1st St. E. on the campus of Carleton College. Retired professor Dr. Paul Niemisto will be the conductor of Tuba Christmas 2017.
Tuba Christmas is an event that brings together euphonium, baritone and tuba players of all ages to play Christmas carols for the enjoyment of family, friends and the general public. The music made by dozens of low brass instruments playing as a choir is an experience not to be missed, either as a participant or a listener.
2017 is the 44th anniversary for Tuba Christmas concerts/events which are presented throughout the world. Tuba Christmas was conceived in 1974 by Harvey Phillips as a tribute to his teacher and mentor William J. Bell, born on Christmas Day, 1902. The first Tuba Christmas was conducted by Paul Lavalle in New York City's Rockefeller Plaza Ice Rink on Sunday, December 22, 1974. Traditional Christmas music performed at the first Tuba Christmas was arranged by American composer Alec Wilder who ironically died on Christmas Eve, 1980. Wilder composed many solo and ensemble compositions for tuba and euphonium. He was a loyal supporter of every effort to improve the literature and public image of our chosen instruments.
There are now over 300 Tuba Christmas events produced annually throughout the United States and internationally. Registration for participants in Northfield's Tuba Christmas will open at noon on December 2. Registration fee is $10. There will be a rehearsal at 2pm and the performance will be at 3pm. Music played at Tuba Christmas will be from "Carols for a Merry Tuba Christmas" which will be available for purchase at registration or can be ordered in advance. Details for the event can be found at www.vintagebandfestival.org .
Tuba Christmas 2017 in Northfield is made possible with generous financial assistance from Carleton College.
Media Contact: Dan Bergeson, bergeson@northfieldwifi.com; 507-581-0553