Copper Street Brass
Have you experienced Copper Street Brass before? They've performed at Vintage Band Festival many times, but maybe you haven't seen them yet. So what do they do?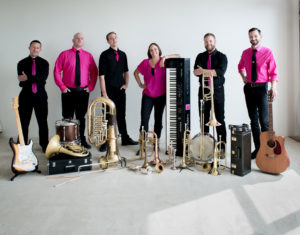 Here's what they say about themselves, "The mission of the CSB is to represent the Evolution of the Brass Quintet. Through inventive concerts, engaging educational programs, and original musical arrangements, we bring a fresh perspective to instrumental music. To express our artistic voice, we use a dazzling fusion of brass, keyboard, guitar, percussion, and electronic instruments to appeal to a universal audience and go beyond ordinary. This is why the Copper Street Brass matters: we de-compartmentalize music through bold and innovative programming that breaks free from your favorite playlist or expected concert experience. We present an unparalleled variety of music on every single performance, and this variety has become the calling card of the Copper Street Brass.
Copper Street Brass will perform at 6:30pm on Saturday, July 29 in Bridge Square. Hang around after their gig and pick up a CD or two and get to know the band.
Sheldon Theatre Brass Band
A perennial favorite at Vintage Band Festival is Sheldon Theatre Brass Band from Red Wing, Minnesota. The Sheldon Theatre Brass Band was founded in 1989 as the resident performing ensemble at the newly restored turn-of- the-century T. B. Sheldon Theatre in Red Wing. The band plays in the British style of brass bands and is made up of cornets, trombones, tenor horns, euphoniums, tubas and percussion. In addition to its regular performances at the Sheldon Theatre, the band performs at a variety of venues throughout Minnesota and western Wisconsin, and it has performed at many brass band festivals throughout the United States including NABBA Great American Brass Band Festival.
Sheldon Theatre Brass Band will perform at 12pm on July 29. You won't want to miss it!