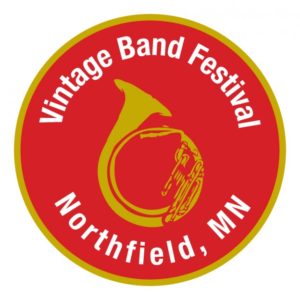 For Immediate Release
May 26, 2017
Vintage Band Festival Announces Band Roster for 2017 Festival
The band roster for the upcoming July 29 festival is now complete. Crowd favorites among the bands returning to Vintage Band Festival in 2017 include Bavarian Musikmeisters, Sheldon Theater Brass Band, Twin Cities Trumpet Ensemble, Brio Brass, and Copper Street Brass. New this year will be the Fife and Drum Corps from Historic Fort Snelling in St. Paul, Brass Lassie, and the McNasty Brass Band.
Historic Fort Snelling Fifes and Drums–The Historic Fort Snelling Fifes and Drums is a volunteer musical ensemble dedicated to representing the fort's long history through music. The musical repertoire spans from the Revolutionary War through World War II, the years when Fort Snelling was an active post of the United States Army.
Brass Lassie—Brass Lassie performs extraordinary arrangements of Scottish, Irish and French music, mainly traditional, featuring a four-piece horn section, a terrific rhythm section, plus fiddles, flutes, pipes, vocals and some wonderful step dancing.
McNasty Brass Band— McNasty Brass Band is a collection of Minneapolis/Saint Paul based horn players and percussionists that fuse the Minneapolis sound with the spirit of New Orleans. The outcome of this fusion is hard-hitting dance music and high-energy live shows.
Copper Street Brass—The five members of Copper Street Brass have style, substance and a flair for innovation, which has allowed them to transcend the brass quintet box and evolve into something fresh. Copper Street Brass started in Albuquerque, New Mexico, in 2007 and settled down in Minneapolis in 2008. The group's new tour program, "The Evolution of the Brass Quintet," features music from Mozart to Dave Brubeck to Adele. Its blend of musical styles and fusion of electronic effects and brass has wowed audiences in communities across the country. Last season the quintet performed for 4,300 students in 25 schools.
Brio Brass—Brio Brass has delighted and entertained audiences throughout Minnesota's Twin Cities
Metro area since 1999. Composed of more than 50 adult musicians, the group performs its own unique arrangements written specifically for its members. The ensemble's large repertoire features a broad spectrum of musical styles. Audiences are entertained with fluid ballads, pop of all eras, show tunes, funky rock and lots of jazz. Expect lots of humming, toe tapping and even dancing in the aisles!
Twin Cities Trumpet Ensemble–Understanding that the trumpet holds a special place in the psyche of society, the Twin Cities Trumpet Ensemble seeks to enliven, entertain, and enrich the community through the highest level of professional performance prowess and the presentation of music of
quality and stylistic and temperamental diversity. It exemplifies the transformative power of music through the performance of music written or arranged for three or more trumpets. The ensemble has performed numerous concerts in the tri-state area, including performances at Lake Como Pavilion and several churches.
Sheldon Theatre Brass Band–The Sheldon Theatre Brass Band was founded in 1989 as the resident performing ensemble at the newly restored turn-of- the-century T. B. Sheldon Theatre in Red Wing. The band is made up of cornets, trombones, tenor horns, euphoniums, tubas and percussion. In addition to its regular performances at the Sheldon Theatre, the band performs at a variety of venues throughout Minnesota and western Wisconsin, and it has performed at many brass band festivals throughout the United States including NABBA Great American Brass Band Festival.
Bavarian Musikmeisters–Members of the Bavarian Musikmeisters hail from the Twin Cities and model themselves after traditional German village bands, lederhosen and all. The band's 35 musicians perform authentic musical arrangements on a variety of brass and woodwind instruments: flute, clarinet, trumpet, flugelhorn, tenor horn, baritone, trombone, tuba and percussion. They perform for numerous events in the Minneapolis/St. Paul area and have performed at Germanic festivals in Minnesota, Wisconsin, Iowa and South Dakota, as well as at the German-American Mardi Gras Association annual meeting in Las Vegas.
The Whistlin' Dixies–This Twin Cities-based group prides itself on its versatility. The Whistlin' Dixies has a core group of four fun and funky musicians and adds up to ten others to play a variety of genres, ranging from Motown classics to vintage jazz and swing to rock n' roll. The band often performs for weddings, parties and corporate events.
New Prague Community Band–The New Prague Area Community Band consists of community members ranging from teenagers to retirees. It plays a diverse selection of band repertoire, striving to entertain all sorts of audiences. Band  members are an energetic group who believe that music is fun; they try to show that in their attitudes and in the songs they play at local events and area celebrations throughout the year.
The venue for the series of outdoor concerts on July 29 will be Bridge Square in Downtown Northfield, Minnesota along the banks of the wild and scenic Cannon River. The show will run from 10am-10pm and feature a variety of Minnesota music ensembles playing 45 or 90 minute sets. Vintage Band Festival will run concurrently with Riverwalk Market Fair, an open-air arts and food market, and will also have a variety of food concessions. Festival goers should bring chairs or blankets and plan to spend the day.

This activity is made possible by the voters of Minnesota through a grant from the Southeastern Minnesota Arts Council thanks to a legislative appropriation from the arts and cultural heritage fund.