July 11, 2016
FOR IMMEDIATE RELEASE
Vintage Band Festival 2016 Features Music and Good Stories
Artistic Director: Paul Niemisto, vintagebandfestival@gmail.com; 612-308-6857
Media Contact: Dan Bergeson, bergeson@northfieldwifi.com; 507-581-0553
Northfield, MN —Vintage Band Festival 2016, July 28-31 in Northfield, MN, will feature four days of non-stop brass and wind band music, but it will also be an occasion to witness historic achievements, meet internationally renowned artists and interact with hundreds of musicians and their families. Read on to learn about two of the highlights of this year's festival.
Friedemann Immer, Master Trumpeter
Friedemann Immer will be a special guest trumpet soloist at Vintage Band Festival 2016, joining the Kentucky Baroque Trumpets under the direction of Don Johnson.
Friedemann Immer, born 1948 in Duisburg, Germany, is one of the best known Trumpeters in the musical world. Early in his career he specialized in the playing of the Baroque Trumpet and played with orchestras such as Concentus Musicus Vienna, Freiburg Baroque Orchestra, Academy of Ancient Music Berlin, Musica Antiqua Cologne, la Stagione Frankfurt, Academy of Ancient Music London, Boston Baroque and Aston Magna USA . He has worked with conductors Nikolaus Harnoncourt, Frans Brüggen, Thomas Hengelbrock, Ton Koopman, Philippe Herreweghe, Marcus Creed, Martin Pearlman, Ivor Bolton, Christopher Hogwood and Hellmuth Rilling. Immer has made over 200 recordings and appeared many times on radio and television. This includes more than 10 recordings of J.S.Bach´s second Brandenburg Concerto on period instruments.
Friedemann Immer was invited – as a soloist and with his "Trompeten Consort Friedemann Immer" –  to the Historic Brass Symposium in Amherst, Massachusetts (1995) and New York City (2013) and to several International Trumpet Guild Conferences, the last one in 2014 in Valley Forge/King of Prussia, Pennsylvania. This is his first visit to the Vintage Band Festival.
Friedemann Immer is Professor for Baroque Trumpet at the Hochschule für Musik und Tanz Cologne, Germany, and at the Royal Music-Academy in Copenhagen, Denmark. He taught 20 years at the Sweelinck Conservatorium in Amsterdam. In addition to these activities he continues to give master classes all over the world.
For more information about Friedemann Immer or to schedule an interview, contact Don Johnson
kybaroquetrumpets@windstream.net, phone 270-699-5764.
---
Vintage tuba found in Northfield, MN antique shop is now restored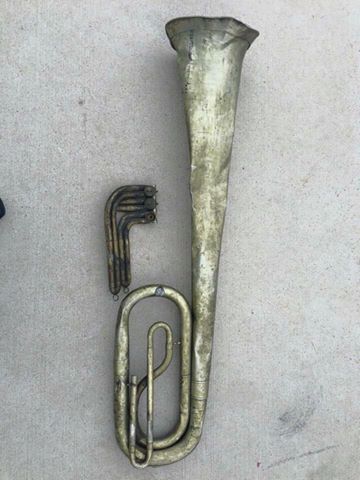 Three years of work and the Northfield tuba mentioned in the article "Trash to Treasure" (Northfield News, 8/5/13) has come back to 1st Brigade Band to begin a new life in 2016! Nancy Campbell-Pierce has done a wonderful job restoring this irreplaceable part of history.
This horn was spotted in a Division Street shop window in by Doug Condon and Elsa Condon, members of 1st Brigade Band of Watertown, Wisconsin, while in Northfield, MInnesota for Vintage Band Festival 2013. The two talked with the shop owner, Devin Johnson. Mr. Johnson had found this piece of musical history in a Twin Cities scrap yard about to be melted down. The shop owner purchased the scrap and was going to make jewelry out of the parts.

Doug and Elsa Condon saw the importance of the instrument and with impeccable timing, persuaded Bandmaster Jon Condon and the instrument curator of the band, Dan Woolpert, to negotiate the preservation of the instrument with the shop owner. 1st Brigade Band will have this instrument in playing condition for their return trip to Northfield for Vintage Band Festival 2016, July 28-31.
For more information about this amazing instrumental transformation or to interview the musicians involved in the process, please contact Doug Condon manager@1stbrigadeband.org, phone 920-342-6361.
This activity is made possible by the voters of Minnesota through a grant from the Southeastern Minnesota Arts Council thanks to a legislative appropriation from the arts and cultural heritage fund.