The following letter was recently sent to the Vintage Band Festival donor base. Since many website visitors are not yet donors, the letter is reprinted here for their information.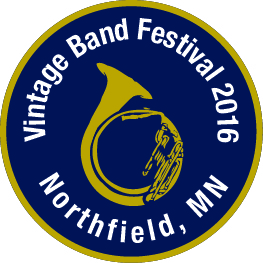 May 2, 2016
Dear friends,
The tenth anniversary four-day Vintage Band Festival happens July 28-31—just three months away.  The band roster and the performance schedule have been finalized. There will be 31 bands and about 100 concerts.  Our last four-day festival, in 2013, attracted 15,000 attendees, and the diversity of bands and music repertoires was amazing—the festival has become a major event in this region and nationally.
The lion's share of the approximately $100,000 in funding for the festival comes from hundreds of gifts by local individuals, an astonishing example of cross-community collaboration.  In addition to making cash gifts, Northfielders host band members in their homes, set up and take down at performances, and give hours of their time locating resources beyond cash so that the whole project can come to pass.
I'm writing to ask you to make a gift in support of this summer's four-day Vintage Band Festival.  Gifts of any size are deeply appreciated, but here are two ways to support the festival that link to specific needs at the core of our costs:
We house visiting bands that travel long distances to Northfield in Carleton College facilities at our expense.  Since several of the bands will stay 3-4 nights this summer we will need to fund approximately 300 nights at $35/night.  A gift to fund five nights would be $175; ten nights $350, and so on.
The largest part of our budget is the fees we pay to get some of the best and most unusual bands to come to the festival.  Some nearby Minnesota bands do not charge us a fee but we will be paying 20 bands a total of $33,750 for this summer's festival.  A gift of any amount will help with these costs, but for a gift of $1,000 we would designate you in our publicity as the sponsor of a specific band.
Checks can be made out to Vintage Band Festival at 204 W. 7th St. #130, Northfield, MN 55057.  Credit card donations can be made by clicking the big green "DONATE" button on our website www.vintagebandfestival.org. Thank you most warmly for your consideration of this request.  Let the music begin!
Sincerely,
Janet Gettings Stevens, President                                                                     Paul Niemisto
Vintage Band Festival Board of Directors                                                        Artistic Director