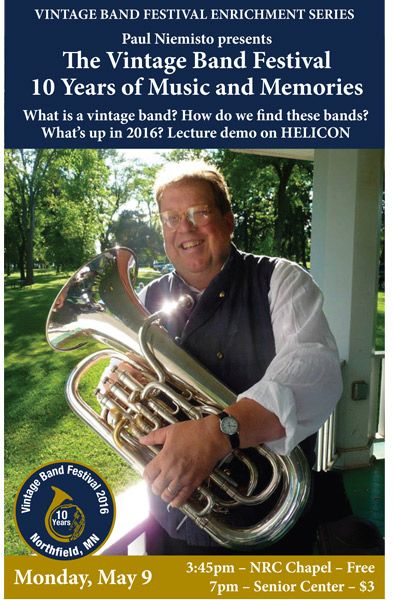 Vintage Band Festival will present its latest Enrichment Series installment twice on Monday, May 9, 2016. The program will be given first at the Northfield Retirement Community Chapel (900 Cannon Valley Drive West) beginning at 3:45pm. The Northfield Senior Center (1651 Jefferson Parkway) will host the second presentation at 7pm.
The featured guest will be Dr. Paul Niemisto speaking on the topic "Vintage Band Festival: Ten Years of Music and Memories." Dr. Niemisto will address such questions as "What is a Vintage Band?" "How do we locate and select the vintage bands that play at the festival?" "What can listeners look forward to at the 2016 Vintage Band Festival?" Niemisto will also perform a demonstration on the helicon, a low brass instrument that is a precursor to the modern-day Sousaphone. He will have three helicons from his personal collection on display at the event.
Vintage Band Festival 2016 will take place in Northfield July 28-31, 2016. 30 bands will play over 100 concerts in Northfield and surrounding communities during the 4-day festival. 2016 is the 10-year anniversary of Vintage Band Festival. Details of the 2016 festival can be found at www.vintagebandfestival.org.
This activity is made possible by the voters of Minnesota through a grant from the
SoutheasternMinnesota Arts Council thanks to a legislative appropriation from the arts and
cultural heritage fund.