April 12, 2016
For Immediate Release
Northfield, Minnesota—The Northfield Eagles Club will be hosting a benefit spaghetti dinner 2016 VBF Poster Spaghetti Dinner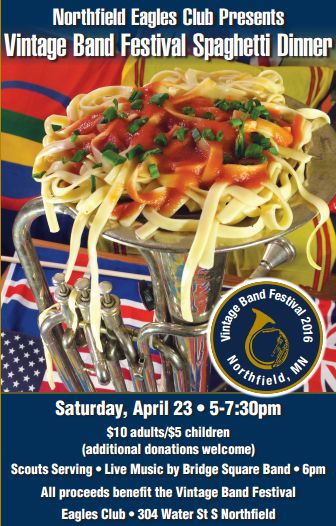 as a fundraiser for Vintage Band Festival 2016. The event will take place, Saturday, April 23, 2016 from 5:30pm – 7:00 pm at the Fraternal Order of the Eagles Club, 304 Water Street South, Northfield. Dinner will consist of spaghetti with marinara sauce and parmesan cheese, salad and sliced bread. Cash bar will be available. Local area scouts will be serving the dinner.
Live music will be presented throughout the evening. There will be three ensembles playing for the dinner guests: student musicians from St. Olaf College at 5:30, Bridge Square Band at 6:00 and an ensemble of student musicians from Northfield High School at 6:30.
Tickets for the Vintage Band Festival spaghetti benefit dinner are available in advance at Coldwell Banker South Metro Office, 419 Division Street South, Northfield. Tickets are $10 for adults and $5 for children. Tickets may also be purchased at the door the night of the event. All proceeds from the event will benefit Vintage Band Festival.
Vintage Band Festival 2016 will take place in Northfield July 28-31, 2016. 30 bands will play over 100 concerts in Northfield and surrounding communities during the 4-day festival. 2016 is the 10-year anniversary of Vintage Band Festival. Details of the 2016 festival can be found at www.vintagebandfestival.org.