Note: This article can be found on Leisure Group Travel's website. Read more Vintage Band Festival coverage here and here.
The Vintage Band Festival, set for Aug. 1-4 in Northfield, Minn., once again will present performances from a wide variety of brass bands. A rich history is found in British-style brass bands. Two Minnesota-based bands in this tradition will appear at the Vintage Band Festival in August — the Lake Wobegon® Brass Band and Sheldon Theatre Brass Band.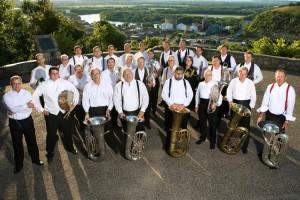 Sheldon Theatre Brass Band
This band style began during Britain's industrial era, when newly invented brass valves were being mass-produced. The resulting cultural change took "playing in a band" to a new level, inspiring challenging contests that enlivened the working communities, heightening spirits and creating a category of band music all its own. Today the North American Brass Band Association embodies this tradition passed down through the centuries, while many heritages continue to embrace British-style music throughout the world.
Read more here.