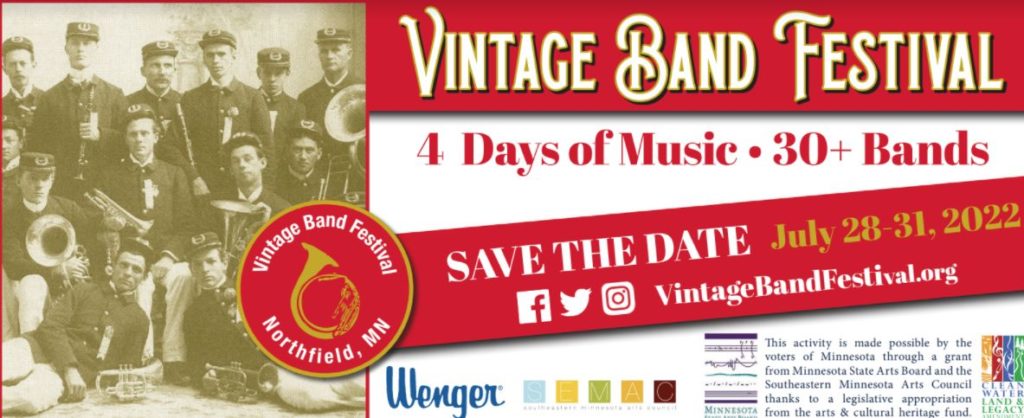 Hello  Vintage Band Festival friends! It's been some weeks since we've made the time to update you on our status. Planning is going well for another summer musical blowout July 28-31, 2022. Vintage Band Festival 2022 promises to be a spectacular celebration of brass band music, historical band music, multi-cultural band music and band music to dance to. Please make plans today to join us for one morning, one afternoon, one day or all four days. You won't be disappointed!
We are in the midst of our annual spring fund drive. This campaign is critical to our 2022 plans for a robust summer festival. We need to raise $10,000  by June 1 in order to stay on the budget track that we put into place last fall. The good news is that we are halfway to that goal. By the end of the day on April 22, we had tallied $5,475 for the spring drive. This puts us at $15,475 toward our overall goal of $35,000 by the time the last note of the festival sounds on July 31, 2022.
Recently, we sent a mailing to some of our past donors. To those who have given so generously since our 2021 festival we offer our warmest thanks. If you haven't made a contribution to Vintage Band Festival recently or have always meant to make your first donation, now would be an excellent time to do so! You may send your check to Vintage Band Festival, 204 W. 7th St. #130, Northfield, MN 55057. If you prefer to make your contribution with a credit card, go to www.vintagebandfestival.org , scroll down and click on the green "Donate" button when it comes into view. Follow the prompts to make a safe and secure donation. A donation in any amount is welcome, but gifts of $100 or more would be especially helpful at this time.
The festival schedule is close to complete and we will begin to share details in the coming weeks. Check our website, www.vintagebandfestival.org regularly for updates and follow Vintage Band Festival on Facebook.
Thanks for your support!