How Can I "Go Vintage" for the Vintage Band Festival?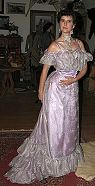 During the festival, vintage bands will arrive in Northfield wearing vintage uniforms/clothing.   The Defeat of Jesse James Days celebration in September is already a Northfield vintage weekend.  What can we do to have more fun and make the weekends even more festive?    Dress-up in period clothing, costumes, or long contra dance circle skirts!
Period clothing is worn by living history buffs to portray life as it was during past periods of history.   Living Historians are in nearly exact copies of original garments and accessories and persona.  This is time consuming and expensive but very satisfying.  Civil War re-enactors are known for their propensity for authenticity!  In recent years, members of the Victorian Society of St. Paul have come to Northfield dressed in 1876 period clothing during the DJJD weekend.   You notice their attention to detail in dress and in persona immediately!  Unless you are already in one of these groups, it will be difficult to get your garments ready by early August and may want to consider on of the other alternatives.
Costumes are worn to give a vintage essence but are not authentic.   Movie costumes are a good example of this.  The clothes Scarlett wore in Gone With the Wind were exaggerated versions of what women really wore.  Carnivale costumes are in this category, as worn at pre-Lenten parties in Europe.  Burda Patterns from Germany has these types of costumes in their pattern book, including parody costumes from GWTW. These garments are easy to sew and perfect for costume parties and Halloween.  Patterns for clothes like these are available at Jo-Ann Fabrics in all the pattern books.
Where to start?
Men can get into the action too by wearing a vintage style shirt.  These can be bought on line for $25 to $40 or sewn from patterns.  Vests and pants patterns and coat patterns are also available.  Pastpatterns.com, lafnmoon.com (Laughing Moon Mercantile), and folkwear.com have patterns as well as the regular commercial pattern companies.  Past Patterns has reproduced a shirt from the Hennepin County Historical Society that is accurate and not too difficult to sew.(Past Patterns # 007, Men's Mid-Nineteenth Century Shirts.)
The following website is one we have found most useful:  Fanny & Vera's Guide to Civil War Re Enactors at www.shasta.com/suesgoodco/newcivilians/index.htm.  The best book on Civil War era sewing is The Dressmaker's Guide:  1840-1865 by Elizabeth Stewart Clark.
What About Renting?
You can rent from the Guthrie Theater's costume source in North Minneapolis or if you're a local Northfield Arts Guild member contact them about their costume closet.
I came to this interest by sewing Santa and Mrs. Claus outfits for my husband and me. This has led to beginning Civil War Civilian Re-Enactment with an additional interest in Japanese Animé costuming.  Steam Punk costuming just adds to the interest for me!   Please feel free to call or email me with any questions.   janstevens@realtor.com or 507-244-0500
Useful Links
http://pastpatterns.com/
http://www.lafnmoon.com/patterns.html