The 2019 Early Brass Festival of the Historic Brass Society (HBS) will be held in conjunction with Vintage Band Festival in Northfield, Minnesota. The Early Brass Festival will take place August 2-4, 2019, primarily at the Weitz Center for Creativity on the campus of Carleton College in Northfield.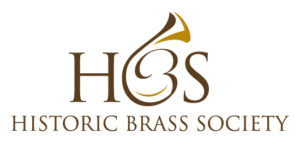 Founded in 1988, the HBS is an international music organization concerned with the entire range of early brass music, from Ancient Antiquity and the Biblical period through the present including the development of jazz and its influence on brass instruments, literature and playing techniques. The history, music, literature and performance practice of early brass instruments such as natural trumpet, natural horn, early trombone, cornetto, serpent, keyed bugle, keyed trumpet, early valve horn, 19th century brass instruments are some of the main issues of concern to the HBS.
In addition to a membership meeting and musical performances by attendees, the HBS gathering will feature more than a dozen scholarly presentations on variety of topics. The complete schedule for the three-day event follows. To register, download the Early Brass Festival registration form.
—————————————————————————
Friday, August 2, 2019
8:30-9:00- Meet and Greet; registration
9:00-9:30 – Glen Newton  –The Mississippi River Brass Band
9:30-10:00 – Petter Carlson, Stockholm – Band Music of the Stockholm Summer Spas (ensemble)
10:00-10:30 – Jari Villanueva, Baltimore- Band Music of World War I
10:30-10:45 – Break
10:45-11:15 – Robert Apple, Memphis-The Keyed Trumpet's use in Early 19th Century Brass and Wind Band Music
11:15-11:45 – Michael O'Connor, Florida- Thomas Coates brass band composer and leader (ensemble)
11:45-12:15 –  Don Johnson Jr – Chamber Works and Pedagogy for Keyed Trumpet in the Early Classical Period (ensemble)
—————————————————————————–
Saturday, August 3, 2019
8:00-8:30 – Meet and Greet (coffee)
8:30-9:00 – HBS meeting
9:00-9:30 – William Hall- The 1st Nebraska Volunteer Infantry Regiment Band, 1861-1862 (ensemble)
9:30-10:00 – Don Larry – Arizona Territorial Brass Band History
10:00-10:15 break
10:15- 10:45 –  Géry Dumoulin, Brussels  – The arguèdène tradition in Wallonia (Belgium): an entertainment practice at the crossroads of brass band, dance, and folk music traditions (ensemble)
10:45-11:15 –  William Reynolds, Illinois-Circus Band Memories
11:15-11:45 – Friedmann Immer, Germany- New Thoughts on the Keyed Trumpet
—————————————————————————-
Sunday, August 4, 2019
8:30-9:00 – Meet and Greet (coffee)
9:00- 9:30 – Joy Riggs, Northfield- An Iowa Regimental Band's 1906 Tour of the South
9:30 -10:00 – Bruce Gleason – European Battlefield Trumpets, 16th-19th Centuries
10:00-10:15 break
10:15-10:45 – Scott Muntefering –  Women's Bands in Iowa: the Keota Ladies' Band (1908-1918) and the Knoxville Girls' Band (1915-1919)
10:45-11:15 – Nolan Hauta , Iowa – New Horizon Bands
11:15               Closing